>>MAIN OFFICE
MEPET's Main Office is conveniently located in Dubai Internet City, right before Jebel Ali Freezone if you are going towards Abu Dhabi. To reach our office from Dubai, take the Sheik Zayed Road. You would know that you are on the right track once you pass by the Mall of Emirates with its distinctive Ski Dubai slope. After one to two kilometers from the Mall of the Emirates, you will find the entrance to Dubai Internet City on your right. Click on the image below to download location map.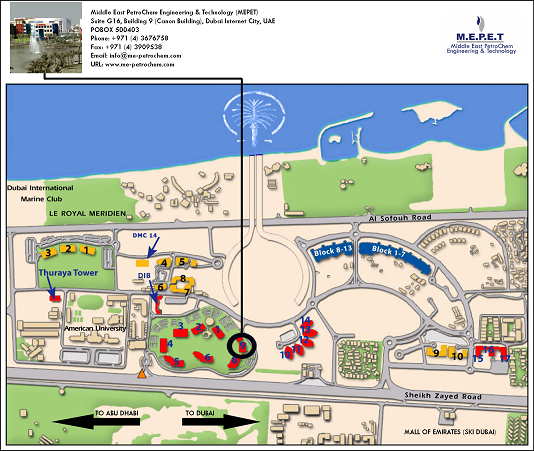 >>MEPET RESEARCH & DEVELOPMENT LABORATORY

In partnership with the Higher Colleges of Technology, MEPET Research & Development Laboratory is housed in Dubai Men's College, Academic City, Dubai, UAE. Click on the map below to enlarge and/or have it printed.